Actor Bill Cosby charged with sexual assault
​American actor Bill Cosby, who has been plagued with accusations of sexual assault over the last few years, was charged on Wednesday (Dec 30) with sexually assaulting a woman after plying her with drugs and alcohol in 2004.
This is the only criminal case against a once-respected entertainer, whose father-figure persona has been dragged through the mud after dozens of similar sexual assault accusations from different women came to light in the past few years.
A feeble Cosby, who walked with a cane, was accompanied by two lawyers and appeared for his arraignment hours later at a courthouse just outside Philadelphia, where he posted a US$1 million (S$ million) bond.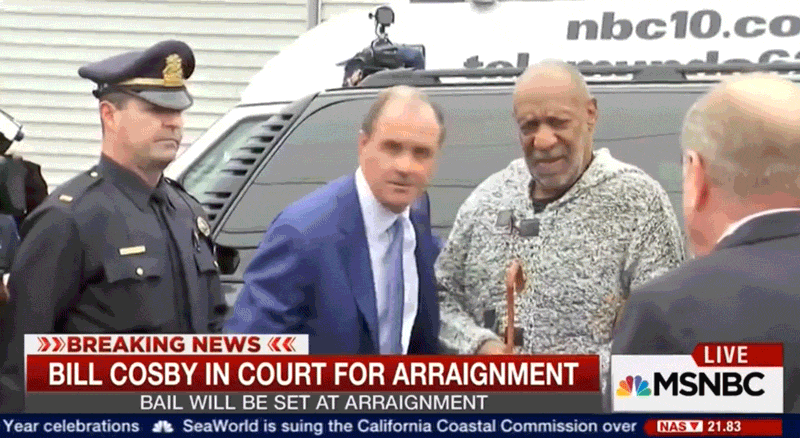 The case against Cosby, who is most known for his iconic Dr Cliff Huxtable role in sitcom The Cosby Show, was filed just before the statute of limitations deadline for criminal prosecution expires in January.
The charge stems from allegations leveled by Andrea Constand, 44, who settled a civil case against Cosby for an undisclosed sum in 2006. 
She is one of more than 50 women who have publicly accused Cosby of sexually assaulting them  in incidents that date back to the 1970s.
In an affidavit accompanying the charge, Constand was a guest at Cosby's home near Philadelphia in January 2004.
He had allegedly given her wine and urged her to take three blue pills, said prosecutors in a statement.
They said: "Shortly thereafter, the victim became incapacitated, and Cosby led her to a couch. The victim lay down... and Cosby positioned himself behind her. Cosby then fondled the victim's breasts, put his hands inside her pants, and penetrated her vagina with his fingers... The victim did not consent to any of these acts and reported that she was unable to move or speak and felt 'frozen' and 'paralysed'.
When Cosby was questioned by the police as to whether he had sex with the victim, he answered, according to the charging documents, "never asleep or awake". The statement contradicts Cosby's deposition in the civil case where he admitted that they had consensual sexual contact.
While Constand declined to speak to the media outside her home in Toronto, her lawyer Dolores Troiani issued a statement that said: "In that this matter is now being pursued in the criminal justice system, we will not comment further."
Ms Gloria Allred, a lawyer who has represented 29 of Cosby's accusers, said: "In Pennsylvania, there is now a journey to justice."
Source: Reuters