Nicki Minaj wardrobe malfunctions, Queen Bey reigns at the VMAs
Unlike last year's MTV Video Music Awards, this year didn't give us that many headline-worthy moments.
At some moments during the broadcast, we felt like J Lo.
But there were some notable moments from this year's show.
We still saw a lot of twerking this year - courtesy of Nicki Minaj when she performed her homage to big butts, Anaconda. And if you felt that any of that shaking might have caused a wardrobe malfunction of sorts, don't worry she handles them like a pro.
During the opening performance, she ran off stage for a quick wardrobe change before she sang Bang Bang, which features Jessie J and Ariana Grande.
But hey, what's wrong? Why are her arms placed over her dress like that?
Yes, that's Nicki Minaj handling a huge rip in her dress like a pro.
The show must go on after all. 
And of course, who better to end the show than Beyonce herself.
The recipient of the Michael Jackson Vanguard award performed a 16-minute medley of songs from her self-titled album.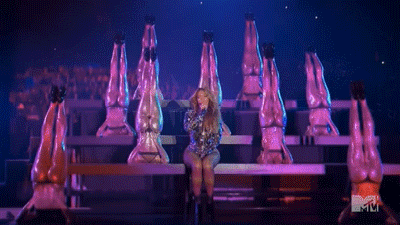 And it was clear exactly why fans call her Queen Bey.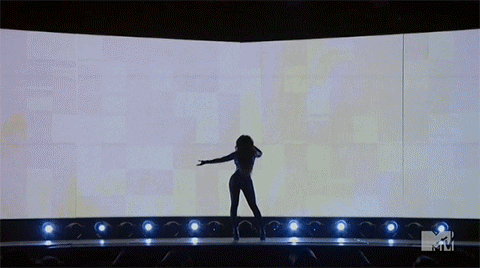 She even managed to put those pesky divorce rumours to rest as Jay Z, together with Blue Ivy, presented her the award.
Jay Z called her: "The greatest entertainer in the world."
Beyonce told him: "My beloved, I love you."
Even with all that, little Blue Ivy, the daughter of the power couple, could have possibly stolen the show tonight.
Look at her taking after her mother!
And, of course, Miley Cyrus stole part of the show with a campaign for the homeless.
The VMAs are more about the moments than the actual award winners.
But if you're interested, here's the winner's list below:
Video of the year: Miley Cyrus - Wrecking Ball
Best Hip Hop: Drake featuring Majid Jordan - Hold On (We're Going Home)
Best Male: Ed Sheeran featuring Pharrell - Sing
Best Female: Katy Perry featuring Juicy J - Dark Horse
Best Pop: Ariana Grande Feature Iggy Azalea - Problem
Best Rock: Lorde - Royals (yes, we made sure to double check this)
Source: Buzzfeed, Giphy, MTV