Ryan Gosling struggles to keep it together on Saturday Night Live sketch
Remember Ryan Gosling? He was everyone's imaginary boyfriend until he was made off-limits when he became a proud father of baby girl Esmeralda Amada with his actress girlfriend Eva Mendes.
Since then, we have had a bunch of new men to obsess over like Benedict Cumberbatch and Chris Pratt (fatherhood didn't make them fade away into oblivion).
But Gosling is back, with new movies including Big Short, which is out later this week, and comedy The Nice Guys that will be out in May next year.
To promote Big Short, Gosling hosted Saturday Night Live (SNL) for the first time - and his appearance can possibly make him the "it" guy again.
He wasn't that impressive as a comedic actor - but watching him struggle to stop laughing was adorable and demands instant replays (at least for me).
In one skit, he plays a man, along with two others, who have apparently been abducted by aliens for the first time and are being interviewed by the US government.
The skit stars SNL breakout star Kate McKinnon and Cecily Strong as the other two abductees.
The trio recount their tales but McKinnon gives an absurdly hilarious version that has the whole cast breaking out into laughter.
Here's Gosling desperately trying to keep it together. He succeeds... for a while at least.
And then he completely loses it.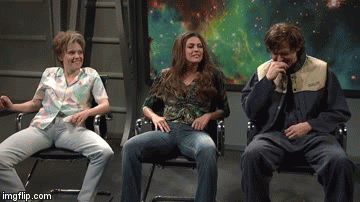 Gosling is not the only one over the years that has broken character.
Even veteran cast members, both past and present, like Bill Hader, Kristen Wiig and even Tina Fey have tried (and failed) to stifle their laughter.
Source: Vulture