Chris Rock in The Martian? And other top moments from this year's Oscars
Was Chris Rock the most entertaining Oscar host in years?
I mean he was certainly memorable. Can anyone remember last year's host Neil Patrick Harris? Nope, didn't think so. 
Chris Rock tackled the elephant in the room - the lack of diversity in its nominees - head on. Bonus? He was hilarious too.
For a ceremony that had few surprises (except the fact that Spotlight won Best Picture), Rock made the ceremony fun and unpredictable.
Below are some of the highlights from the show.
Remember, you can watch the Oscars on HBO on March 2,9pm), March 4, 10.30pm and March 6, 4pm. 
---
Chris Rock's monologue
---
​After no actors of colour were nominated for two years in a row, there was industry-wide protest against the Academy Awards. The #OscarsSoWhite hashtag started trending worldwide and kickstarted several important conversations.
While Rock was appointed as host before the nominations were out, it is now clear (just based on hindsight) that there was no one better to tackle the subject (um, can you imagine Neil Patrick Harris trying to talk about this?).
In his monologue, he spoke candidly about thinking of quitting after the nominations were announced but knew that the Oscars would still go on anyway.
He joked: "I didn't want to lose another job to Kevin Hart."
He also suggested another way to include black nominees was to just have black categories.
An example? "If you want black people every year at the Oscars, just have black categories like best black friend."
He also made fun of Creed or as Rock calls it "Black Rocky".
"Rocky takes place in a world where white athletes are as good as black athletes. Rocky is a sci-fi movie... There is stuff in Star Wars that's more believable than this," said Rock.
---
Chris Rock's sketches
---
One of the funniest sketches (there was plenty to choose from) was reimagining nominated movies with white actors.
He enlisted the help of Oscar-winning actress Whoopi Goldberg, comedians Leslie Jones and Tracy Morgan to be black actors in movies that were basically full of white actors. Rock was in the bit himself as the astronaut that gets left on Mars in The Martian, which starred Matt Damon.
She said: "Maybe one day they'll make a movie about a skinny white lady that made a mop. A black girl would have to invent the cure for cancer before they give her a TV movie."
Rock questioned if NASA would have spent so much money to save a black man from Mars... and the conclusion was "it might be a PR problem".
In another sketch, he went to a movie theatre in Compton, California, where he asked black moviegoers about the nominated movies.
And well, they didn't believe that movie titles like Bridge of Spies even existed (you are not alone, don't worry).
Apart from the sketches, Rock also made seemingly off-the-cuff comments that further pointed to the lack of diversity within the nominees.
He introduced Creed's Michael B. Jordan as "shoulda been nominee".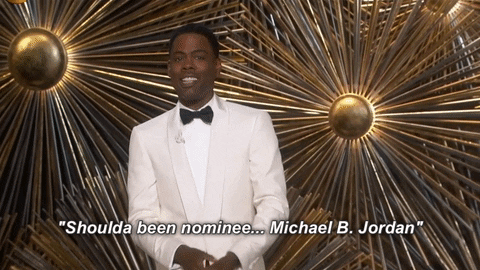 ---
The inexplicable cuteness of Jacob Tremblay
---
​Forget Leo. 
Nine-year-old Tremblay, who should have been nominated for Room, was the real king of the awards show season.
Throughout the season, he has consistently awed with his cuteness and the Oscar ceremony was no different.
When the Star Wars characters C-3PO, BB-8, R2D2 turned up on stage, Tremblay was basically the rest of us when he stood up (adorably) to get a better look.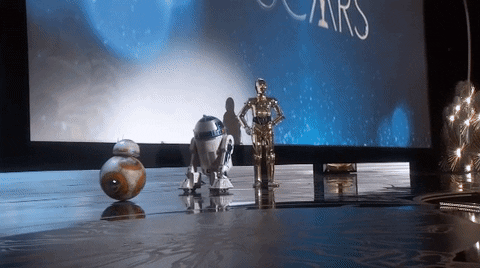 We also love his friendship with Room co-star Brie Larson, who also won her first Academy Award for best actress!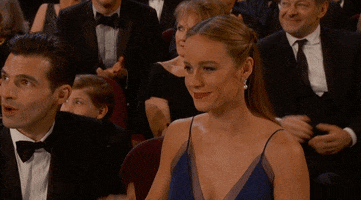 ---
Leonardo DiCaprio finally winning an Oscar
---
The man that has launched a thousand memes. Before today, Leo, as he's most affectionately known, was the most famous Oscar loser.
Well, this all changed earlier today when he finally won his first Oscar for The Revenant. His win was celebrated by Hollywood with a standing ovation - and by the Internet with more memes (this time more celebratory obviously).
---
Lady Gaga making us all cry
---
Introduced by US Vice President Joe Biden, Lady Gaga sang an emotional song about sexual violence and the performance was one of the night's most important moments.
Gaga sang Til It Happens to You, which was nominated for Best Original Song. The song was featured in the documentary The Hunting Ground, which is about a series of sexual assaults on US college campuses. 
The singer, who is also a sexual assault survivor, was clearly emotional and she was joined on stage by survivors of sexual assault.
She may have lost the award to Sam Smith and Jimmy Napes for their Bond theme Writing's on the Wall, but her performance certainly made a lasting impact. Hopefully, it will drive both men and women to be more aware of the prevalence of sexual violence.