WATCH Michael Bay of tennis v World No. 1
Not a tennis fan? No problem.
Here's a tip: Think of the person you're about to see, Gael Monfils, as the Michael Bay of tennis.
Rest assured that 99% of the time, watching a Monfils match means you're getting the full package of entertainment. There's action, dramatic falls, loud screams, more action, laughter, rippling muscles and, did I mention action?
In yesterday's ATP Rogers Cup game in Toronto, that's exactly what happened in his second round battle against Novak Djokovic.
Despite losing 6-2 6-7 (4) 7-6 (2) against the world number one, Monfils put up an extraordinary fight in the action-packed two hour and 41 minute game.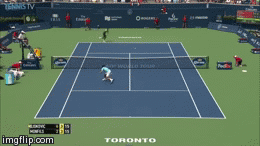 He definitely snapped the newly-married Djokovic out of the honeymoon bubble - making it so hard for the Serb to book a spot in the next round.
Djokovic, who got hitched after claiming his seventh grand slam title at Wimbledon, laughed as he talked about how peers like Monfils were not about to let him relax. "It's been many years already that I have been on the professional tour and with the same team of people around me who are experts in their fields, and they are making sure I'm in the right frame of mind and in the right zone."
Monfils was determined to break Djokovic's excellent streak since this year's Australian Open. Watch what he did.
If he had succeeded, it would have been Monfils' first win against his better-known opponent. But alas, fate decided otherwise.
Despite winning, Djokovic admitted: "Gael... loves jumping around, sliding, he's very unpredictable. You don't know what his next move is, so that's why he's so interesting.
 "I said before that he's probably the only guy in the world... that I would pay a ticket to watch the match. He's really fun to watch but not so much fun to play against."
With a performance like that, the Frenchman will undoubtedly beat his biggest opponent one day.
Fingers crossed.
Sources: Reuters, ATP