Zookeepers are copying Chris Pratt's character in Jurassic World
This article is more than 12 months old
Jurassic World is the movie that every one has been talking about this past week.
And Chris Pratt's role as a raptor whisperer, where he cultivates a special bond with three Velociraptors, has been one of the movie's strong points.
A particular scene where Pratt tries to control the raptors when they are just mere metres away from him has resonated with fans, who are turning it into memes.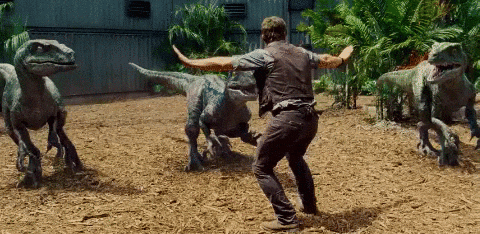 Zookeepers too are taking part by copying Chris Pratt's Owen Grady pose. And instead of raptors (apparently, they're extinct), these zookeepers chose random animals instead.
Even the Jurong Bird Park has joined in the fun.
One of the keepers, Chandra, posed with three pelicans.
Others around the world have done the same too.
A dolphin trainer posed with dolphins at the National Aquarium in Baltimore.
Source: Nerdist, Wired